Kindly ensure these rules are followed when shipping certain items: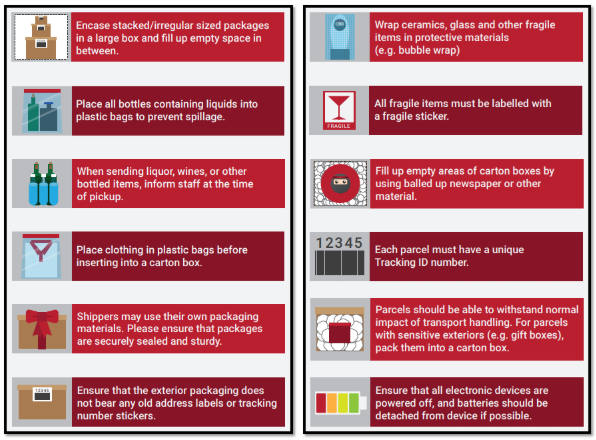 Let us know it's fragile! Label all fragile items with a Fragile sticker, or clearly write "Fragile" on the exterior packaging. Please also give verbal instructions to our Delivery Ninjas at the time of the pickup, to ensure that we immediately know to take precautions.

Use protective material. Wrap ceramics, glass bottles, and other fragile items in protective material such as bubble wrap and/or foam casing.

When shipping bottled liquids… Apart from using bubble wrap to protect the bottle, please place bottles into sealed plastic bags to prevent spillage.

For irregularly sized items… Encase stacked or irregularly sized packages inside a larger box, and fill up empty areas of the box by using balled up newspaper or other material.

When shipping clothing… If using a carton box to ship clothing or textiles, please place the item in plastic bags before inserting the item into the box.

When shipping electronics... Please ensure that electronic devices are powered off. Detach the batteries when possible. 
Weight & Size Limitations (Max Weight; Size)
Shopee Parcels
Pouch = 30cm; 5kg

Own Packaging = 100cm; 50kg
For question regarding Ninja pouches please click this link: Does Ninja Van provide packaging?
Lazada Parcels
VIP/Regular/Others
Metro Manila = 30kg; 100cm

Provincial = 10kg; 100cm
 NOTE: For Shopee Own Packaging please click the link provided for the Shopee own packaging Guidelines: What is NinjaVan Own Packaging (SOP) for Shopee?
Feel free to reach out to us via email at support_ph@ninjavan.co or call us at (02) 271 1501 if you need further assistance.